How we do it?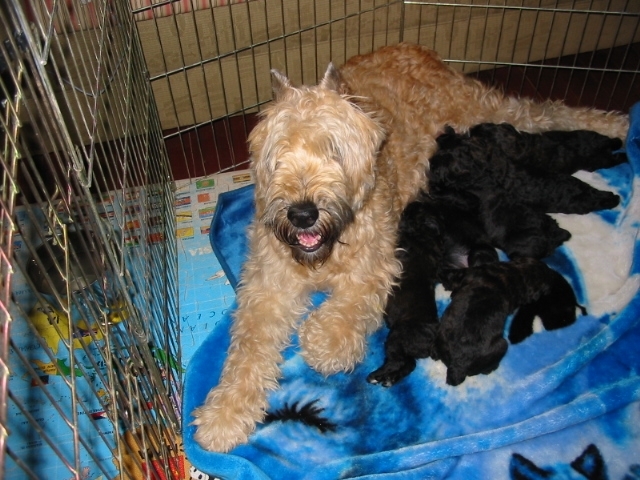 Our litters are planned very carefully and we choose only the best dogs to be part of our breeding program to ensure the temperament, health and genetics of the puppies we breed. To that end, each dog being considered for breeding is 5-star health tested (Hips, Elbows, Eyes, Heart, and Thyroid) and only those dogs passing all five health tests are used in our breeding program.   Our goal is to ensure that adopted families have a superior puppy that is the perfect fit for their entire family.
We breed to the FCI Standard (International) and we steer away from the latest fashion fad that is contrary to the FCI standard, including super sized dogs with extreme angles. Our bouviers are proper in size and movement.
Puppies are lovely raised in our smoke free home, they are whelped in our bedroom and receive a great deal of socialization prior to going to their new families. They are exposed to early neurological stimulation, lots of dogs, loud noises, daily walks in the woods, and car rides. Puppies are snuggled and handled everyday. They are groomed (nails clipped, ears cleaned, brushed and bathed) as required and they have already started potty and crate training at 5 weeks of age.
Companion puppies are adopted out on non-breeding contracts and are:
Au Natural – it is illegal in BC to crop ears or dock tails.
CKC Registration
Temperament Test at day 49
Conformation Evaluation at 8 weeks of age
Nose to tail vet check at 8 weeks of age
Microchip
First DAPP Vaccine
Dewormer (4X)
Pet insurance for the first 6 weeks.
Two-year written health guarantee.
Life-time breeder support.
Additionally, we take finding Bouv worthy homes very seriously, so all potential families are asked to complete our Puppy Questionnaire.
Click here to complete our Puppy Questionnaire